Home Phone Rates That Go the Distance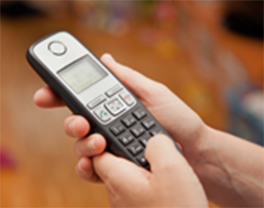 In this age of smartphones, the home phone is becoming an antique to some. For others it's an essential part of life and personal security. We work with providers across the country to deliver excellent deals on home phone service. Did you know home phones can often be bundled with other services for deeper discounts? Get in touch with us today to lower your current rate for home phone plans.
5-Step Process
Get Started
Sign-up online for as low as $12.99 per month. If we can't save you what you pay us, we'll give you your money back. Guaranteed.
Send us your bills
You can send us your bills directly from our website, e-mail, or text. It's super simple. You don't have to send them all at once – one at a time is fine. If you can't find your bill to send, just tell us who your provider is and how much you're paying.
Relax
Once we have your bills, we'll give you an idea of how much you will save, and then we go to work for you. We'll do the heavy lifting here with minimal involvement from you.
Celebrate!
BillAdvisor's efforts will save you both time and money – guaranteed. Use the time and money to do something you enjoy, or save it for a rainy day.
Relax Again
BillAdvisor isn't a one-and-done company. Once we save you on your bill, we'll monitor it long-term so that you continue saving down the road. We do this for all of the bills you give us, helping you keep as much money in your wallet as possible.