As you awaken, you stretch, trying to shake off the slightly groggy feeling of morning.
The weather is going to be fickle today, and a gridlock of vehicles are building up along the nearest road. You smile to yourself, grateful to be working from home.
Luckily, all you have to do is power up your computer, make a fresh pot of coffee, and start your new virtual job!
Working remotely sounds nice, right? If you're thinking about taking on a virtual job either as a freelancer, a side gig, or for your next full-time role, read on to see if home-based work is right for you and how to do it without getting scammed!
Where to Find Legitimate Virtual Jobs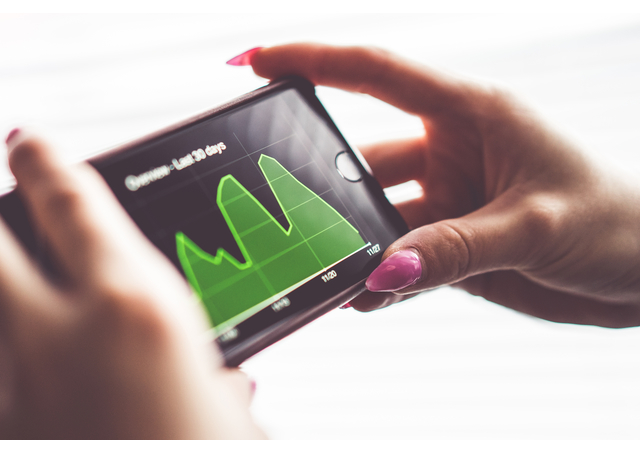 There are definitely real home-based jobs out there waiting for you! Here are the best companies and websites to find virtual jobs that are legitimate.
Places to Find a (Real) Virtual Job
Are Virtual Jobs Scams?
Working virtually can seem really easy – until you start actually looking for a job.
You'll need to be wise about where you send your personal information when applying for remote positions. One wrong move and your data could end up being used against you in fraud or identity theft cons.
This is especially true if you're not required to complete an interview with the hiring company in person. Visual cues are often dead giveaways – like whether an employer has a real, established location and lives up to what you saw online or were told in a conversation.
Work-From-Home-Jobs That Are Definitely Scams
What about when the application and hiring process for a virtual job is entirely online (and many of them are)? There are some glaring red flags to you need watch out for when applying for home-based positions.
Here are some common virtual work-at-home job scams you should never reply to:
Poorly written emails from unfamiliar, non-business addresses.
Requests for sensitive information (like social security numbers or birthdates) when first speaking to a prospective virtual employer.
Job listings or employer emails asking you to 'invest' in your own home-based business, or pay for instructions, equipment access, or products.
Business contacts who are vague about the essentials of the job or unwilling to answer questions.
Companies or individuals who ask you to send or receive checks, bills, and other shipments, requiring you to live in the United States.
Employers that offer to send you a check immediately for activities like mystery shopping, and afterwards send them the remaining money.
Any job offer that claims you will get paid well for doing little work.
A company or business that has no working phone number, internet or social media presence. (Seriously, it's 2017!)
As a perfect, real-life example of what not to respond to, here is an email I received recently: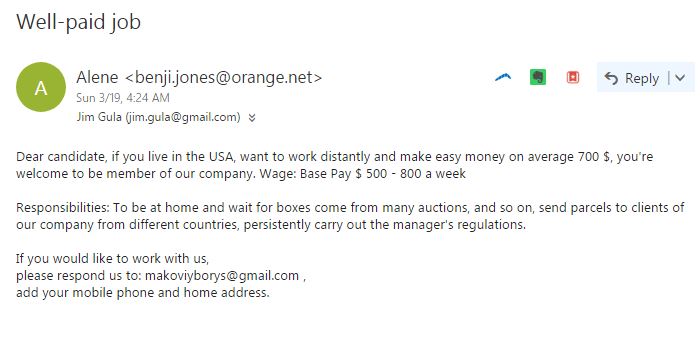 It hits almost every warning sign on the above list! The email asks that you live in the U.S… Asks if you want to 'make easy money' (no such thing)…. It's also a very poorly written message with the dollar signs in the wrong places and almost no capitalization or punctuation. Basically, it's something that would be unthinkable for a legitimate US-based company to send out.
The email address and sender names don't even match each other, and don't match any company that can be found by a quick Google search. There's no other identifying information about the company in this message, but yet jobseekers are expected to receive and send packages at a personal home address? No thanks.
Emails like this scream 'fake'. Yet, every year a surprising number of Americans are sucked into work-from-home scams promising easy jobs for hefty pay.
The internet is a jungle, so be careful out there when job-hunting!
What to Do if You Suspect an Interesting Virtual Job Is Fake…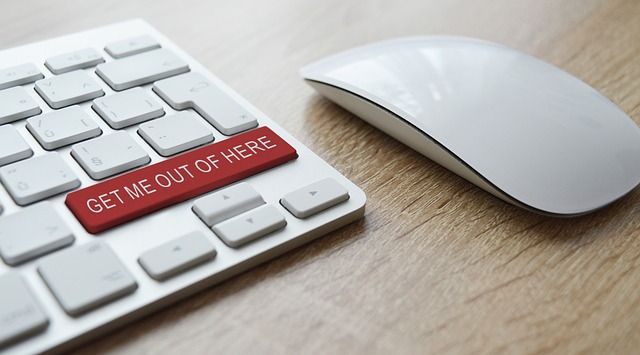 Visit the Better Business Bureau's website to search for more information. Since the Better Business Bureau uses 13 different factors to rate a company's overall trustworthiness, it's a great resource to use before applying to any jobs you're not sure about.
HINT: Pay particular attention to the Alerts & Actions section under each company profile, as well as the number of years in business, and unresolved consumer complaints and the types of complaints. If you can't find the company at all, it's a good idea to consider to more legitimate opportunities.
If you feel like you or someone you know has been a victim of an identity theft remote job scam, notify your bank, credit card company, and the Federal Trade Commission as soon as possible.
Popular Reasons to Work From Home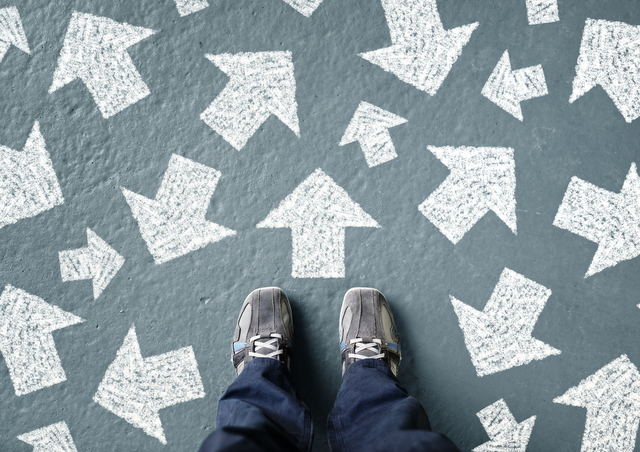 Home-based work certainly isn't for everyone. It takes focus, disciplined time management and a much more independent working style than usual. Check out some of the most common motivations for pursuing a virtual position:
I want to have more time for myself and/or my family while still making money. I've been thinking about increasing my income by taking on a side job, but it needs to fit my schedule. I want to be my own boss and use my skills to complete projects under a successful freelance brand and/or business. I have limited access to transportation or in-person opportunities (for whatever reasons). Working remotely could seriously help me make a living while overcoming my current circumstances.
If you identify with any of these, a work-from-home position is something you probably want to pursue seriously. In this case, it's good for you to be completely informed.
Pros & Cons of Having a Virtual Job
Like most things in life, there are downsides to working remotely no matter if you're part-time or full-time, freelance, or a traditional employee.
The freedom and flexibility of having this type of job comes with plenty of positive aspects but people rarely consider the drawbacks. Do any of these pros or cons impact your desire to work from home?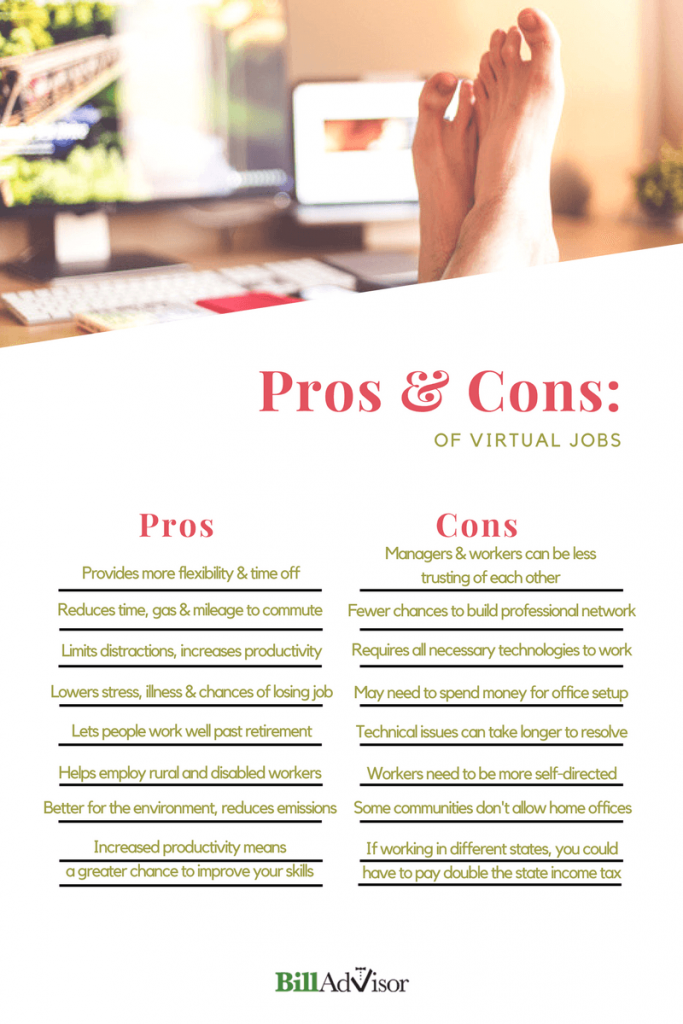 Working Virtually: The Real Deal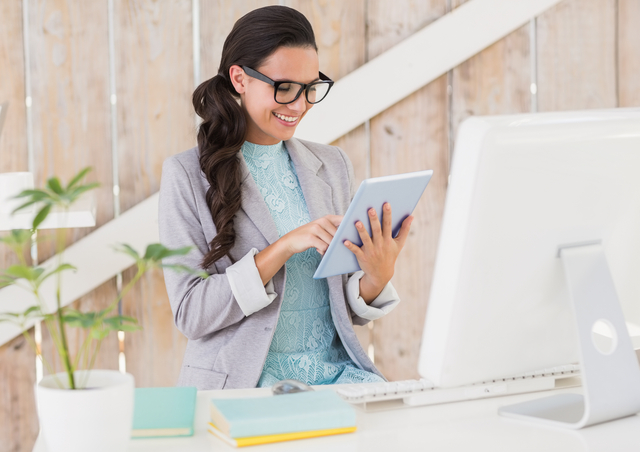 There are two basic categories of workers who do virtual jobs:
Employees who work from home for a company or another public or private institution; also known as "telecommuting".
Self-employed individuals who do virtual work due to the flexible nature of their roles. They're either temporary contractors or entrepreneurial freelancers offering their services. Some may even have their own home-based businesses.
Of course, these two circumstances aren't always so clear. For instance, some people might have multiple jobs – like a typical in-office 9 to 5 with a separate freelance job on the side. Also, there are full-time employees who may have arrangements to telecommute while occasionally visiting their workplace.
If you are currently working in-person but can do your job with more flexibility, start by asking about any telecommuting options your employer may have available.
Feel like you're more suited to freelancing?
Capitalize on a current skill you're already great at doing. The wonder of the internet enables you to do most things from home, so start your own side gig! If you have a full-time position, begin researching the industry for your skill and start making plans in your free time. With some serious dedication, you'll be up and running before you know it.