Do you know the real story behind your sushi? Unfortunately, some of the items we often buy without a second thought could have serious consequences for people miles away whom you'll never meet, but who still matter.
Terrorist operations. Enslavement and trafficking. Superbugs. Even murder.
These are realities of the seemingly harmless goods transported through intricate networks of global supply and demand.
We'll cover the rest of those horrible things your money could be indirectly supporting in our future Dirty Money posts. Today, however, we're taking a look at seafood.
Delicious, fresh, healthy seafood. What could it possibly be hiding besides omega-3 fatty acids?
Slavery in Seafood Industries
Who doesn't love a good shrimp scampi recipe? People who are enslaved, that's who.
And that's only a partial exaggeration.
As the International Labour Organization (ILO) estimated in 2014, forced labor in the private economy reaps some $150 billion in illicit profits each year… These billions flood the formal marketplace, corrupt the global economy, and taint purchases made by unwitting consumers. Long and complex supply chains that cross multiple borders… make it challenging to verify that the goods and services bought and sold every day are untouched by modern-day slaves.
Source: Trafficking In Persons Report. U.S. Dept Of State (July 2015)
In 2015, the golden-standard journalism of The Associated Press (AP) produced a slate of stories on forced labor and slavery in South Asian fishing waters. The bombshell revealed the illegal and inhumane conditions in countries like Indonesia and Thailand, where men seeking work were enslaved to source seafood that ended up in the U.S.
As AP journalists discovered, some of the 'complex supply chains' the Department of State report alludes to turned out to include restaurant suppliers, major retailers and brands like Wal-Mart and Nestle.
This award-winning investigation eventually culminated into worldwide boycotts, internal inquiries by retailers, the passing of various laws, arrests of traffickers and rescues of more than 2,000 laborers. The U.S. was among these countries when it tightened supply and demand loopholes in the Tariff Act of 1930, banning entry of forbibly produced goods into America.
That doesn't mean your red snapper is slavery-free just yet.
As recently as March 2017, a bill was introduced to fight enslavement of foreign fishermen being confined to squalid conditions in boats around Hawaii.
The result? It failed due to roadblocks in its proposed enforcement.
Unfortunately, the saga of slavery being tied to fishing for your favorite marine delicacies isn't over.
So what can ethical seafood-lovers do to ensure they're not supporting abusive, unpaid, forced labor?
How to Be A Responsible Seafood Shopper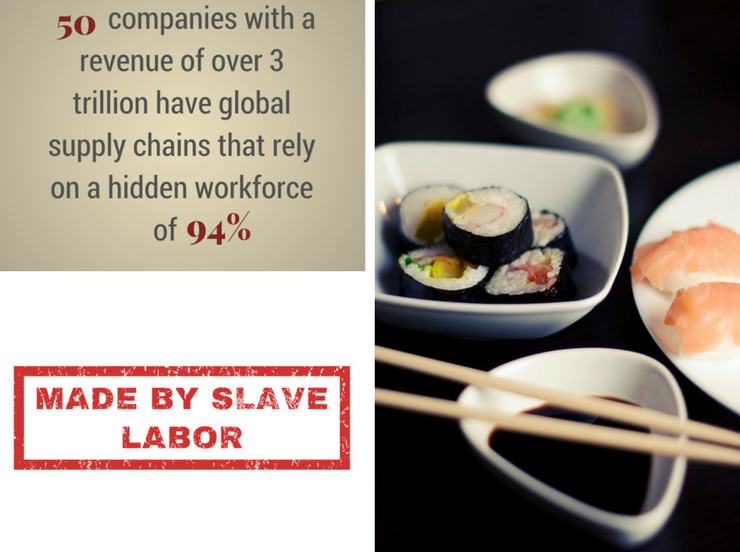 Before you head out on your next grocery store run, you need to be informed. Here are some tips for buying seafood the smart way:
Stick to seafood sourced from domestic waters. Even restaurants should know the source of their marine wares
Opt for labels that specify Alaskan, Gulf, or Atlantic locations
Choose products marked 'sustainable' whenever possible. Sustainable fishing methods are ethical for humans and ocean life by curbing quotas and other practices which often lead to illegal activity.
Venture out to local fish markets. (This is really easy to do if you live near the coast).
Visit Fishchoice.com to find responsible products and brands. You can filter by seafood species, fresh/frozen products, sustainability attributes, seafood origin, and much more.
No one is saying you should go cold-turkey on fish forever.
The most practical thing to do now is educate yourself (and others). Shopping more responsibly may require a little sacrifice, but there are alternatives to almost all types of seafood.
Follow me on Blogarama