Homeowners insurance is designed to protect your house and your belongings within it. So what could possibly go wrong as long as you have some kind of policy, right?
Wrong! Very wrong, in fact.
Take our base city of Houston, TX, for example.
In August 2017, we experienced historic flooding when the monster Category 4 Hurricane Harvey swept through. The South's largest city was saturated with billions of gallons of water— inundating roads, devastating homes with high winds and flying debris.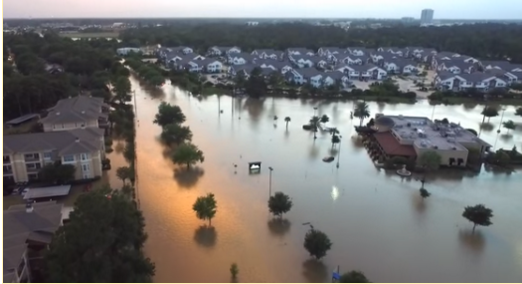 Over $5 billion worth of damage occurred in one county alone. Elsewhere, the storm affected people whose homes had not yet recovered from 2015's Memorial Day flooding. As much as 4 feet of water damaged homes and apartments while ruining others.
Evacuating families lost their homes, possessions, and some unsuspecting drivers even lost their lives.
Thankfully, I didn't experience any flooding, but my mother's roof was damaged.
This resulted in an hours-long call to her homeowners insurance company. During the call, she learned a frustrating lesson. Her lesson made me wonder how many others were making the same mistakes (and more) with their own policies.
As a famous author once said: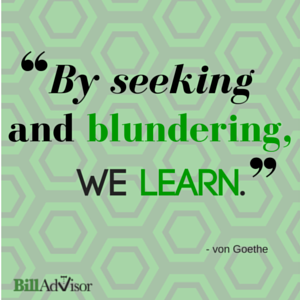 Even if you've been guilty of some of the following missteps with your homeowners insurance, don't beat yourself up. There's always room to change your mistakes and move on.
Mistake #1: Ignoring add-on policies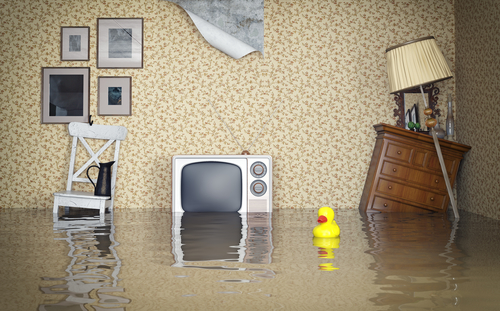 Perhaps you forgot or simply didn't think floods or earthquakes would be a problem for your area.  Whatever the reason, you need to add it on immediately. Add-on policies like flood or earthquake insurance can make the difference between being secure and destitute.
Increased extreme weather spurred by climate change shows this is not a small matter to shrug off.
"Changes in climate not only affect average temperatures, but also extreme temperatures, increasing the likelihood of weather-related natural disasters." – NASA Earth Observatory
In short, the greater the chance of wild and unpredictable weather, the greater the chance you and your home will be adversely affected. Will you be adequately covered if disaster strikes?
To gauge how this actually looks, I created the following composite maps to find out the risk of flooding near my mother's home.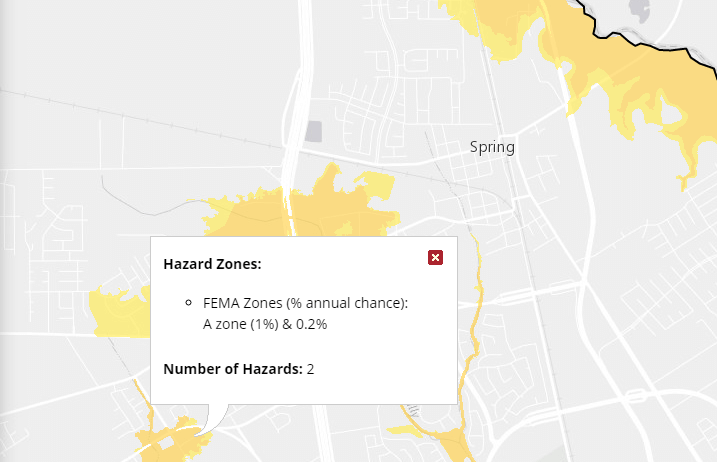 The Coastal Exposure Mapper indicates that yellow areas above (with darker colors indicating more flood zones) are marked as flood hazards from any of the following:
Shallow coastal flooding

High- and moderate-risk flooding (designated by the Federal Emergency Management Agency)

Category 3 hurricane storm surge

Sea level rise of 3 feet
FEMA (or, Federal Emergency Management Agency) Zones are determined by assigning a percent chance to the likelihood of flooding. According to the red shading, the location of my mother's home has a 1% annual chance of flooding.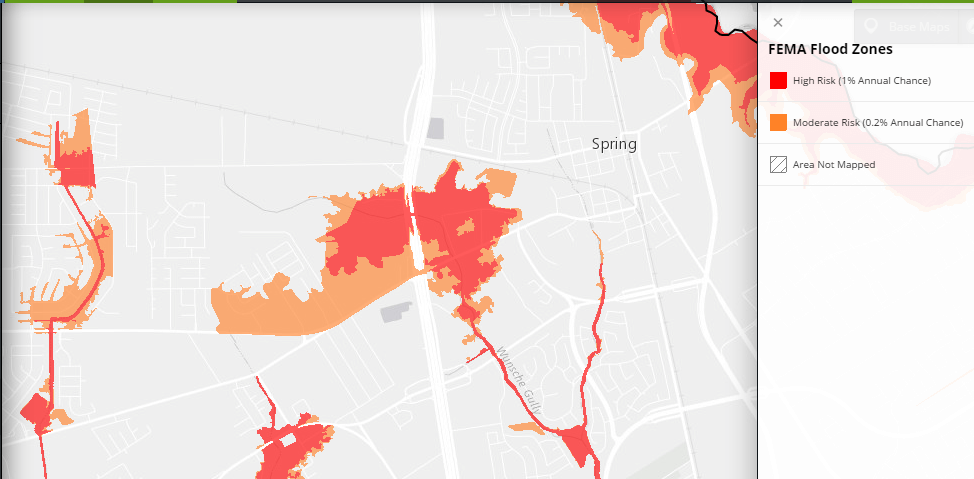 This indicates a high risk, so why in the world would someone in a risky FEMA zone skimp on flood insurance?
Well, many homeowners and buyers don't understand these risks and don't even expect such crazy weather in the first place. Mother Nature gives little warning to her wrath. Just ask the city of Houston which didn't expect five months worth of rain to fall in one day!
Although my mother didn't personally experience flooding, her home could easily flood given the harsh storm and low sea levels of the city. Your home could suffer similar consequences if you ignore this crucial insurance add-on to your current or future homeowner's insurance policy.
You can see how climate change is regionally impacting the United States by going here.
Mistake #2: Keeping a high deductible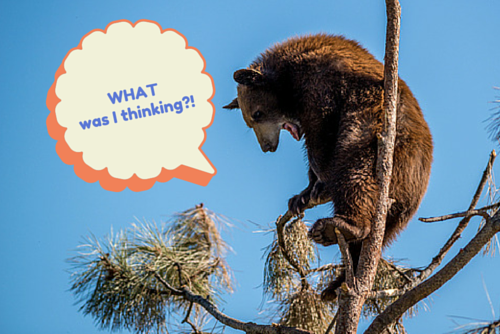 This is actually my mother's specific mistake. So (in a sense) she's that bear in the tree who didn't anticipate the problem until it was too late. 🙂
A homeowners insurance deductible is the amount you are responsible for paying before the insurance company will cover the remaining cost.
Go for paying low monthly premiums, and you will be taking a major gamble should a crisis actually strike. This option is frequently chosen as a way to lower monthly bills, and can work for some people. It's better for those with very solid emergency funds in the bank, and in reality, that's not most of us.
With a low premium, high deductible, and little emergency savings, you will be responsible for the costs not covered by the insurance company and left paying high out-of-pocket costs… Or picking up your jaw from the floor after seeing all those repair invoices!
Think about it this way: if you got stuck in a very high, lonely tree, could you get yourself down?
Mistake #3: Forgetting to increase your replacement value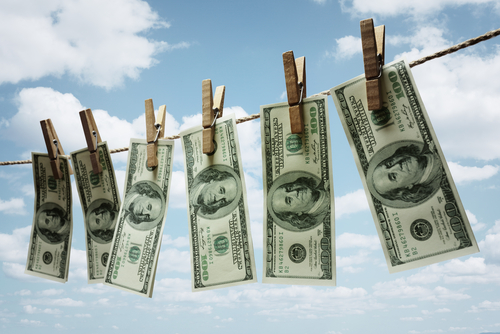 If you haven't increased your replacement value, you may as well be leaving your money out to dry. This is especially true if you also opted to forego adding on policies for damage from natural disasters.
Replacement value (or replacement cost) is one of the ways your homeowners insurance can be paid. While individual policies will define it in greater detail, the general definition means it covers replacing your property in the same spot, with materials of equal quality. It may not be the market value of your home and doesn't include deductions for lowered (or, depreciated) value.
A report by Marshall & Swift/Boeckh (MSB) shows that a whopping 60% of American homes have an undervalued replacement cost! Insurance companies usually won't tell you this when you're applying for a policy in Texas or California, but only you can protect yourself from being underinsured. If you live in or are moving to either of these states, it is EXTREMELY important to keep that in mind and have your property independently appraised.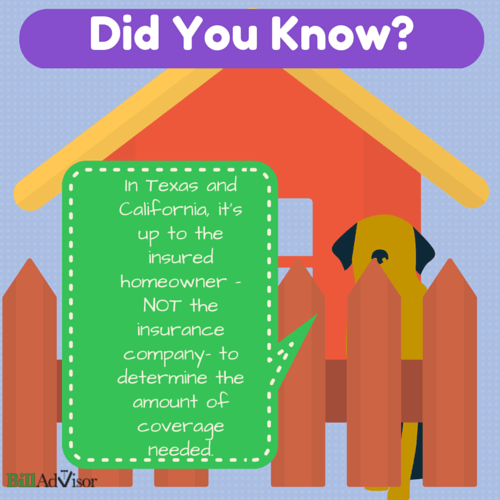 Ignoring or forgetting to accurately appraise your property and raise your replacement value with the insurance company can leave you responsible for insane repair and replacement costs. Bankruptcy is the last thing you'd want to go through after having your home wrecked!
The Bottom Line on Homeowners Insurance
What is at the core of all these mistakes? I hope that by now, you – like my own, dear mother – learned that going cheap on your homeowners insurance is not a good idea.
Of course, there are areas of life where it does pay to be frugal, but homeowners insurance isn't one of them. It's easy to adopt the mindset of, "Oh, well nothing like that will ever happen to me!"… until it does. Ask yourself what kind of position would you and your family be in if a sudden disaster did affect your home after all. You definitely don't want to look back and regret being inadequately prepared. If you recognize that any of these things apply to you, please address them as soon as possible.
You don't have to pay an arm and a leg for homeowners insurance, and you don't have to make these mistakes with your policy.
Having trouble finding the right homeowners insurance? We can find homeowners insurance policies that meet your needs and fit your budget.