Daily Review 12-20-2017
You probably don't realize you spend thousands on your monthly bills every year. See how much people all over the U.S. are saving on their cell phone, internet, TV, insurance, and energy bills with BillAdvisor — only in Daily Review 12-20-2017.
Doris H. from North Apollo, PA saved $840 by changing internet service providers.
Aurora D. from Houston, TX saved $1,147.20 on her energy bill.
Andrew G. from Houston, TX saved $1150.58 on his electricity bill.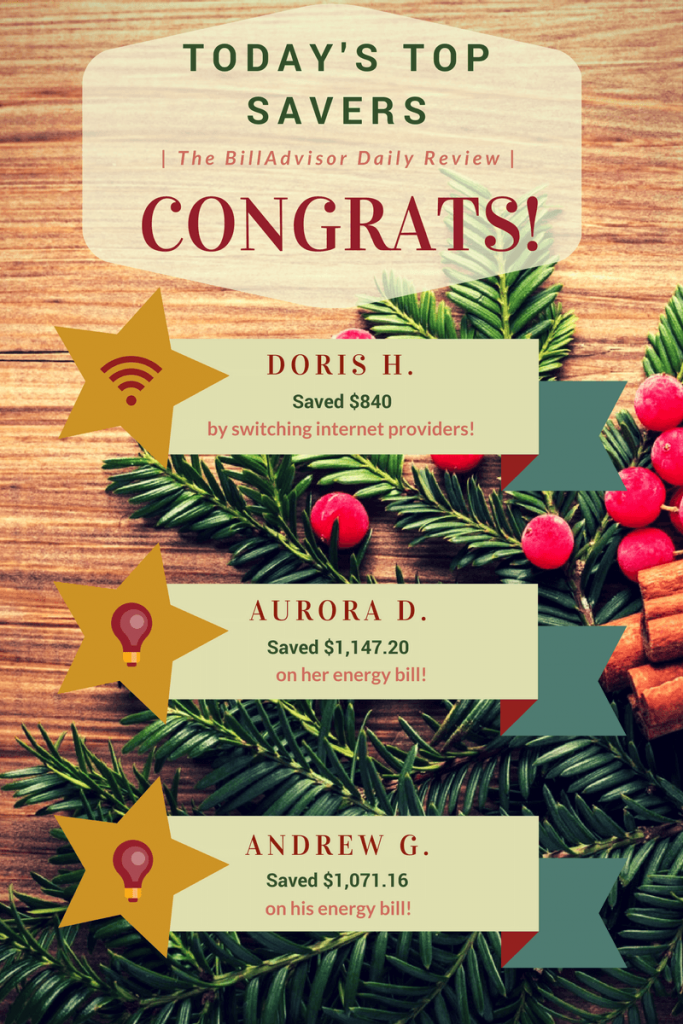 Tired of Overpaying? BillAdvisor Works For You.
No matter how loyal you've been to a brand, sometimes it simply doesn't pay off. Many times, long-term customers are deemed ineligible for newer, better offers and ignored by the companies they've helped succeed. That's why BillAdvisor loves fighting for you to save.
Whether your relationship with a company has spanned decades or just a few days, we'll find ways you can cut expenses. Here are some of the monthly services we help you lower:
Auto, home, life, & property insurance
Home phones
Home security
Internet
TV (satellite & cable)
Wireless (cell phone & data services)
Other services (satellite radio, storage facilities, certain subscriptions & regular home maintenance)
Your Bill Advisor will immediately start securing bigger and better contracts, deals, discounts, new offers, or services after your first consultation. You'll never have to wait to start saving and reaping the benefits of a BillAdvisor membership.
BillAdvisor even handles setting up all the services you'll need when moving into a new home, so you have one less headache to worry about!
Every day, our exceptionally talented Advisors help customers save the money they were previously wasting on bills. We can help you, too.
With a personal concierge shopper, members can take back the power of their purchases and the power of choice.